Southminster's Mission Team strives to educate and motivate the congregation to reach out in the name of Jesus Christ, by becoming involved in a variety of mission efforts through the Presbyterian Church (USA) and other worthwhile agencies.
We have service projects throughout the year that help both locally within Arlington Heights and nationally and internationally.
Local Serving Opportunities
Share Your Soles
During September, Southminster is collecting new or gently used shoes to donate to the Save Your Soles charity. We are also collecting children's books that are in good condition. So please begin saving your shoes and books to donate to our September charity drive. You also might be able to find some at garage sales and donate those.
Share Your Soles is a charitable organization dedicated to donating shoes to those in greatest need around the world. The founder, Mona Purdy, began this organization when she saw children in Guatemala placing hot tar on the bottom of their feet to participate in a local running race. 
Books and Shoes to be donated:
Shoes must be new or gently worn (no holes, still have soles, and are not worn off on the bottom), clean, and able to withstand heavy wear. Books also need to be in good condition. 
Types of shoes to donate:
Any type or size is needed. This includes athletic shoes, sandals, school shoes, dress shoes, work shoes, snow boots, flip flops, walking shoes, slippers, soccer cleats, football cleats, wrestling shoes, high heels, etc. The need for children's shoes is always the greatest. 
You can drop off your donations any time during the month of September. Please place items in the collection boxes located at the church's front doors and just outside the church library. Thank you for your contributions to this wonderful charity. Your donations are always greatly appreciated.
Crop Walk 2017
October 15 – SAVE THE DATE
Christ Lutheran Church, Palatine
Walk with your friends to stamp out hunger. The annual Crop Walk for Hunger provides food for people locally and around the world. This year's Crop Hunger Walk will be held at the Christ Lutheran Church in Palatine, 41 S. Rohlwing Road, on Sunday, October 15, following Contemporary Worship. We're hoping for a big Southminster turn out, so gather your friends and walk with us. Sign up for this event will be forthcoming. Watch this page for more details.
Mission Trip

Opportunity
On Saturday, Sunday, and Monday, November 4, 5, and 6, we have a mission trip planned to remodel the second floor kitchen at Leslie's Place in Chicago.
Since opening Leslie's Place in 1994, Leslie Brown has provided a home and support for over 1000 women returning to society from prison. In fact, more than half of ex-inmates in Illinois are re-incarcerated within three years after their release, but 89 percent of Leslie's Place residents never return to prison.
Jobs: 
remove present flooring; put down plywood and new flooring

carry debris to the backyard

sand cabinets and re-paint

wash and paint walls
Can you help for 1, 2, or all 3 days? If you have any questions or would like us to put your name down as a volunteer, please contact Jean Walker at jw13pr4@aol.com or call 847.302.9647. Thank you!
Leslie's Place is located at 1014 N. Hamlin Avenue in Chicago.
Spring of Life Habitat Partnership
http://springoflifehabitat.org/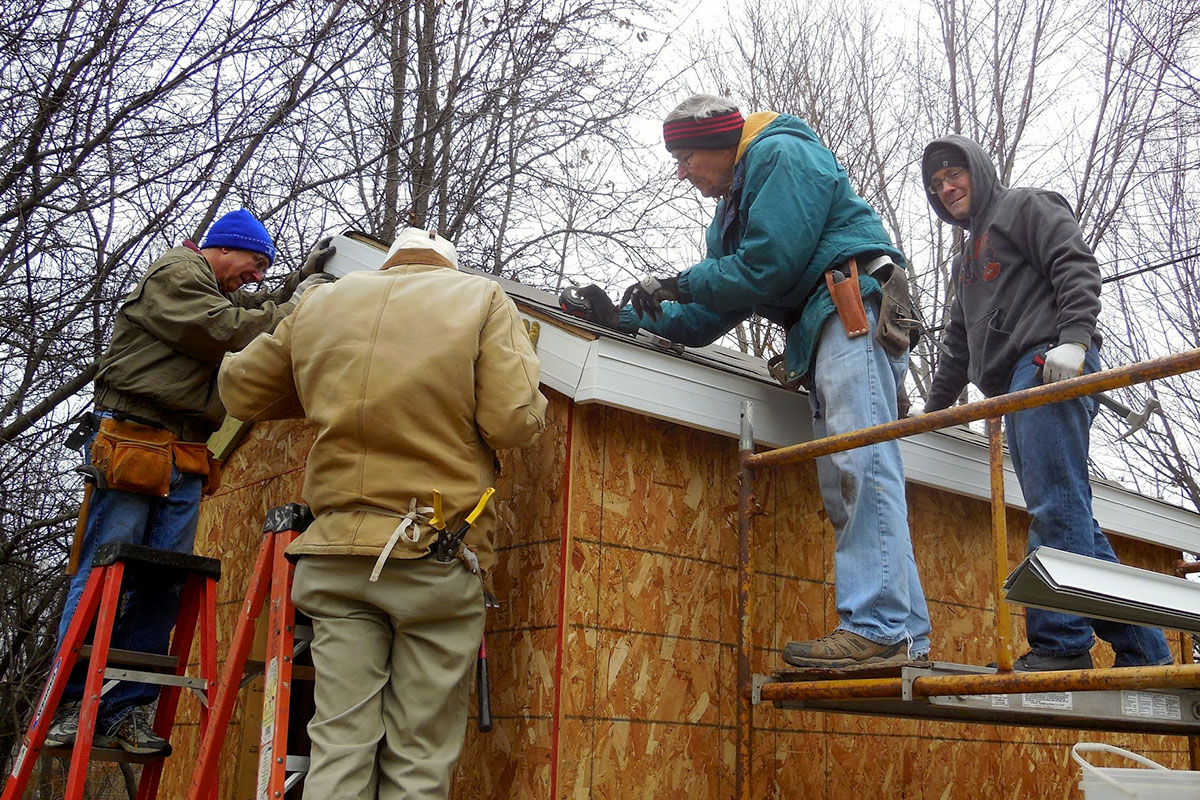 Southminster volunteers have been building homes for qualified families since 1996. The Spring of Life Partnership welcomes men and women of all ages (16+) and walks of life, including church and synagogue members, employees of businesses, civic groups, high school / college students, retirees, friends and relatives.
Building homes requires help with different areas of construction. We depend on volunteers to work on every phase of home building from start to finish, from complex building tasks like carpentry and roofing, to simple tasks like carrying supplies and cleanup.
Maybe you've never held a hammer… have a little weekend project experience… or maybe you're a highly skilled trades professional… We need and welcome your help no matter what level of skill.
Unskilled volunteers are guided by construction managers and instructed by construction crew leaders or other skilled volunteers. Skilled volunteers are also always appreciated for the talents they share to make sure that our affordable homes meet quality standards.
Southminster's scheduled work days for 2017 are yet to be announced. Check this page in the upcoming months for more information on how you can serve Spring of Life Partnership.
Contact Tom Snyder at 847.342.3470.
Mission Trips & Service Projects