What questions do you wrestle with in your faith? How can you deepen your relationship with God? This is a time when adults of all ages gather together to learn, share, and grow in their faith, learning more about the Bible and how to better live their life following Jesus. A variety of different series compose the year. Series are often based on books, but reading the books is optional. For current info about this Sunday's class contact diane@spcah.org.
Adult Education Classes
In Person & Zoom
The Faith in Action Team will be focusing on Mental Health in the months to come and how our faith calls us to understand, support and advocate in this important arena. We hope you can join us in person or online for these two speakers after worship.  
The class will be in-person in the chapel and on zoom immediately following the service.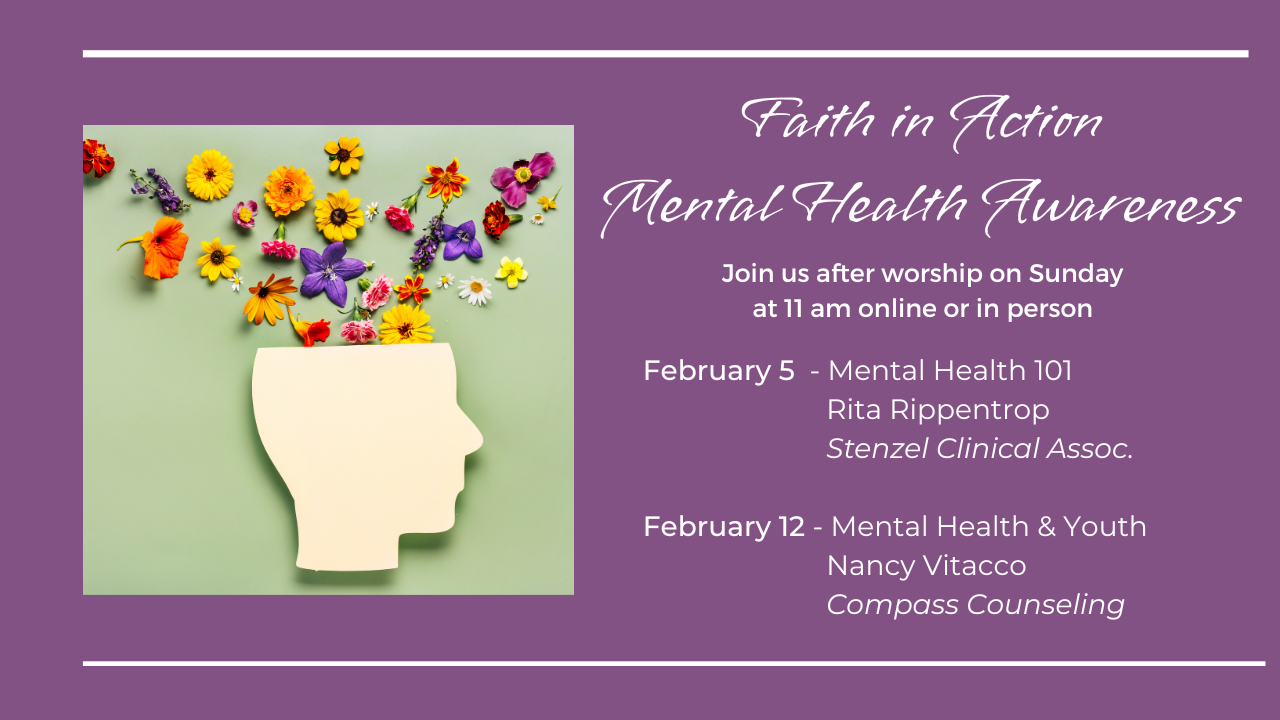 February 5 – Mental Health 101: Guest speaker Rita Rippentrop, Clinical Director of a large faith-based counseling practice will talk about today's most pressing mental health issues, including the effects of the pandemic and the role the Church can play in healing. Rita is a seasoned therapist and has held leadership positions in various community mental health organizations.
February 12 – Mental Health and Youth : Guest speaker Nancy Vitacco, child and family therapist, will focus on mental health and youth, and how to navigate today's rising rates of child anxiety and depression. Nancy works with children preschool through college and their parents, and she has more than 25 years of experience in the public school system.
If want to join meeting with smart phone for audio but not video will need following info:
Meeting ID: 886 152 8079
Passcode: 91600
For telephone call in, with only audio, call 1-312-626-6799, enter Meeting ID and Passcode.
The Lenten Series – Honest to God- Personal Encounters with Jesus that Change our Lives. These classes will follow the sermon series during Lent and help us understand that our personal relationship with Jesus determines and depends on how we relate to Jesus' sisters and brothers.   
The class will be in-person in the chapel and on zoom immediately following the service.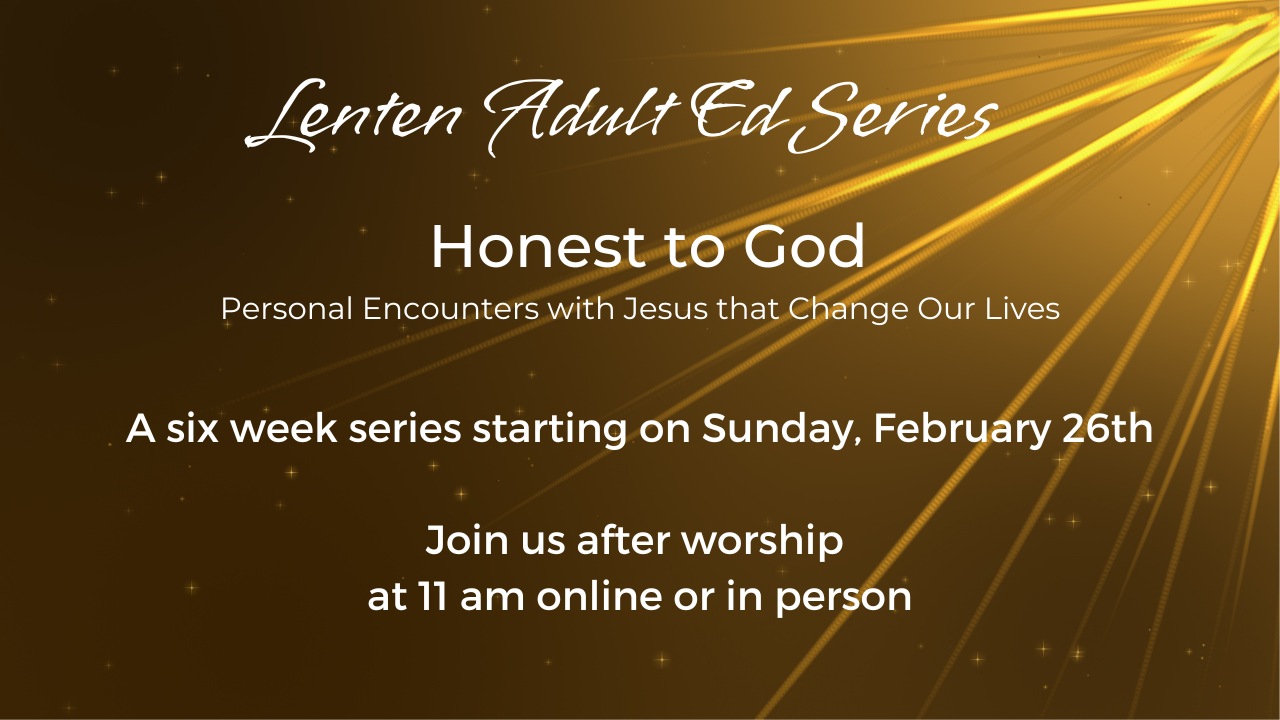 Come and see! We will be encountering Jesus in our Lenten Sermon and Adult Ed series, as He meets with variety of people in the Bible. Come and see! How having a relationship with Jesus can be life changing. Sunday Adult Ed will meet in the chapel around 11:15 am. We will begin with the sermon topic and verses, but we may go to other related places. We will have small group discussion around tables, so we can grapple together with our understanding of topic. Zoom participants will be connected and involved in each week's discussion. When we encounter Jesus, our lights will shine!
February 26 – Jesus Meets the Devil – Matthew 4: 1-11 
March 5 – Jesus Meets Nicodemus – John 3: 1-17 
March 12 – Jesus Meets a Samaritan Woman – John 4: 5-42 
March 19 – Jesus Meets a Blind Man – John 9: 1-41 
March 26 – Jesus Meets Martha, Mary & Lazarus – John 11: 1-45 
April 2 – Jesus Meets Jerusalem – Matthew 21: 1-11 
If want to join meeting with smart phone for audio but not video will need following info:
Meeting ID: 886 152 8079
Passcode: 91600
For telephone call in, with only audio, call 1-312-626-6799, enter Meeting ID and Passcode.
Past Adult Ed Series
Video Recordings
The Mission Team invites all of you to come to the Chapel after worship to listen to the following outreach programs that your mission dollars support.  We have an exciting list of speakers from four of the organizations.  The videos from this series are available below.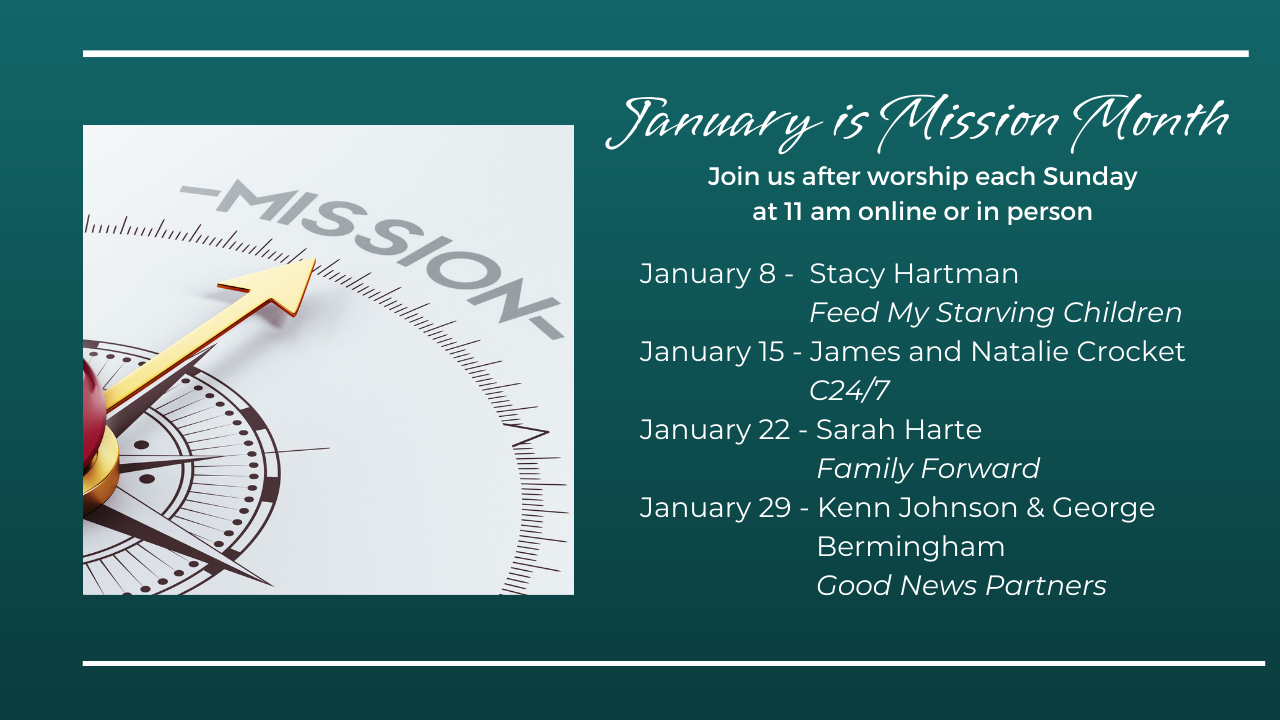 These organizations doing fantastic work with low income and disadvantaged people in Arlington Heights and around the world. The one liner description just scratches the surface of all that these organizations do. So please come, you will be amazed at all the good we do for God's children in Arlington Heights, Chicago, Rogers Park and in foreign countries. 
January 8  ~ Stacy Hartman – Feed My Starving Children
A Christian organization committed to feeding God's starving children in body and spirit around the world. Click for Video
January 15  ~ Natalie and James Crockett – C 24/7
A wonderful ministry to children in the Rogers Park area, bringing sustainable and long-lasting empowerment to children, youth and families through an afterschool learning program and much much more. Click for Video
January 22 ~ Sarah Harte – Family Forward
A non-profit agency here in Arlington Heights that serves and empowers low income families through solid financial tutloring to build their life skills and become financially confident.
January 29 ~ Kenn Johnson and George Bermingham – Good News Partners
A housing project in Chicago that provides affordable housing in the Jonquil Hotel and supports the New Life shelter for homeless women and childrenas well as building bridges of reconciliation and justice for all people. Click for Video
The whole family is cordially invited to join us for 3 weeks of learning about and then singing 7 beloved Advent/Christmas songs. We will first learn the back story of how the song was birthed. This always adds depth to the words that we know so well. Then we will sing to the accompaniment of a video, a mp3 recording, or live music.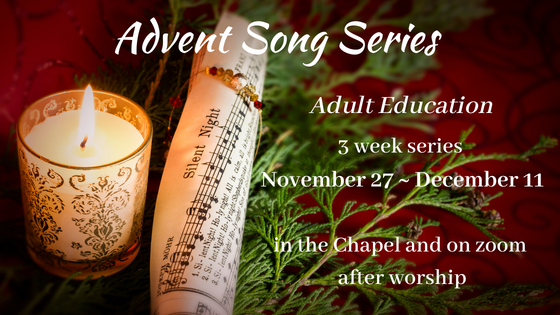 When we last did this for Christmas, 2020, we were all locked up by COVID in our homes, it brought much needed Christmas joy to our isolated circumstances. Now we can gather as a group and lift up our hearts and voices to the joy of Jesus' coming down to earth to show us how to love each other. In 2022, as in every year, we need this reminder of Jesus' Joy as we live in our own communities.
Nov 27: O Come, O Come, Emmanuel and Hark The Herald Angels Sing  ~ Click for Video
Dec 4: Carol of the Bells and The Christmas Shoes ~ Click for Video
Dec 11: It Came upon the Midnight Clear, Good Christian Men Rejoice, and Silent Night ~ Click for Video
The fruit of the Spirit are nine character traits:  love, joy, peace, patience, kindness, goodness, faithfulness, gentleness and self-control. The fruit of the Spirit are traits that are necessary and relevant to help us live Christ centered lives in today's world.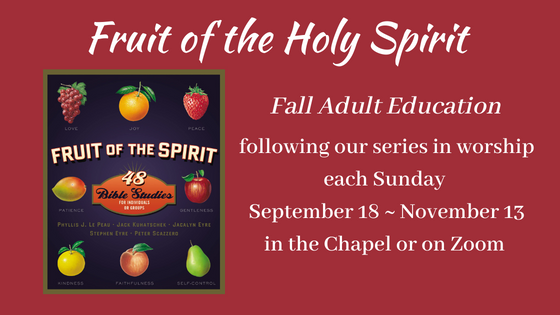 When we make decisions to live out our lives with more love, joy, peace and patience, we are allowing Christ to shine in our behaviors and actions. Living out the fruit of the Spirit will cause us to pause, pray for God's wisdom and ask for God's help to choose differently. Learning how to live out the fruit of the Spirit gives us the opportunity to live out the positive traits of Christ each day. The fruit we bear will be a witness to the world that the God we serve is powerful.
Sunday, Sept 18 ~ Love Facilitator: Bill Bauza – Click for Video
Sunday, Sept 25 ~ Joy Facilitator: Janine Milner – Click for Video
Sunday, Oct 2 ~ Peace Facilitator: Rick Pfleeger – Click for Video
Sunday, Oct 9 ~ Patience Facilitator: Bob Erickson – Click for Video
Sunday, Oct 16 ~ Kindness/Goodness Facilitator: Ellen Riggs – Click for Video
Sunday, Oct 23 ~ Generosity  No Adult Ed
Sunday, Oct 30 ~ Faithfulness Facilitator: Dennis Rich – Click for Video
Sunday, Nov 6 ~ Gentleness Facilitator: Mary Kay – Click for Video
Sunday, Nov 13 ~ Self-Control  Facilitator: Thomas Morrow ~ Click for Video