Join us for Women's and Men's Bible Studies
New Zoom Bible Studies for both Men & Women
The Four Gospel Accounts of Jesus and his disciples at the Last Supper and Gethsemane.
Now extended several weeks –  Men & Women combined  Bible Study being offered Thursdays at 7 PM starting January 21 on Zoom;
Dennis Rich will be offering a Bible study comparing the four gospel accounts of Jesus and his disciples at the Last Supper and Gethsemane prior to Jesus' arrest.
Jesus gave his disciples many instructions during this last time they were together.  Studying the similarity and differences of the four gospel accounts will lead to some interesting discussions.
New Classes Added:
Feb 18th we'll watch a 7 minute video on probable seating at the Last Supper and additional lessons that teaches.  Also will talk about John 15:1-8 and the Jesus is the vine, God the gardener, and believers branches of the vine.
Feb 25th we'll watch a 10 minute video of the Last Supper from the 1977 Jesus of Nazareth movie and discuss the verses mentioned in the clip as well as some additional verses.
We will be focusing on John 17-20 over the next few weeks in March.  Rick Pfleeger will be leading the group.
If you would like to watch these Zoom classes please enjoy:
Week 1 – The Four Gospel Accounts of Jesus
Week 2 – The Four Gospel Accounts of Jesus
Week 3 – The Four Gospel Accounts of Jesus
Week 4 – The Four Gospel Accounts of Jesus
If you are interested in joining this Zoom study, if only for 1 week to try it, contact Dennis at 224-520-2831 or email him at dennis.rich007@att.net.
Women's Bible Studies
Studying the Bible with a group is a wonderful way to grow in your faith and cultivate meaningful friendships. Whether you are experienced with the Bible or have never really read it, the following list of Women's and Men's Bible studies has a study for you! Southminster offers a variety of different Bible Studies that change with the seasons. Childcare is available upon request. If you have questions or need more information, please call or email the contact person listed at the end of the study description.
Wisdom for Living Women's Bible Study via Zoom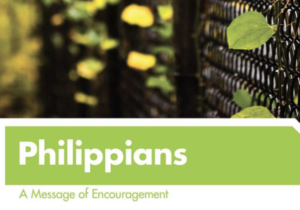 Philippians: A Message of Encouragement
By Marilyn Kunz & Catherine Schell
If you need a word of encouragement or just a reason to be hopeful, then Philippians is the place to start. Discover the reasons Paul had learned to be joyful, content, and thankful, even as he was in chains and under house arrest.  Learn how to find joy and peace in the midst of trying circumstances.
Meeting every other Tuesday for 7 sessions
Beginning February 23rd from 9:30 – 11:30 A.M.
All women are invited to join this small group discussion. Consider inviting a friend! No Bible study experience required.  Study Guide donation: $8.00.
To order a book for this study, please E-mail Kathy Erickson – Lievph@aol.com or call 847.297.8360
Zoom Link here – Please double click on this link and then follow the promptings: 
Our meetings have been now been setup on a recurring basis, we will now have the same Zoom LInk through May 18, 2021.
PS:  Those those with an ipad or iphone you may need this:
Meeting ID:  848 9896 2471  
Passcode:   480202
If you have a iphone: you may need this phone number: 1-312-626-6799.  When prompted, type in the ID number & passcode.
Heart of a Woman Bible Study
Meets every Tuesday via Zoom Audio 1:00 – 2:30 p.m. 
Currently we are studying Proverbs. We'd love for you to join the group!
We are women who enjoy each other's company and who always welcome new faces. You don't need any experience with the Bible or Scripture. We are very friendly and encouraging and want you to enjoy the experience of being in a relationship with Jesus Christ. We hope you will join us and learn how Christ works in your life. 
Wednesday Morning Men's Bible Study
7:30 – 8:30 a.m. currently postponed
Barnabas Room at Southminster
We are men of all ages with a wide range of both Bible and life experiences. Our goal is to learn more about the Bible and how each of us tries to follow Christ in our daily lives. We are very open about how and when we mess up. We trust that God's love and grace will cover our faults and help us live lives closer to how Jesus wants us to be. If you have questions or need more information, call Keith North at 847.398.5421.
Bible Bums Group via Zoom
Mondays, 6:00 – 7:00 p.m. via Zoom
The Bible Bums welcome all men to join! We provide nourishment for the mind, body, and the soul in a relaxed, casual atmosphere, discussing Scripture, enjoying fellowship, and sharing stories. We're never sure where some of the discussion may lead, but rest assured it's always interesting. We don't follow a script—just Scripture! We hope you'll join us and bring a friend. For more information, email Ed Gudonis at egud1@aol.com.