Sign up for the Fall Production of Annie Jr.
All K through 8th graders are invited to sign up for Setting the Stage's fall production of Annie Jr. hosted at Southminster Presbyterian Church!
All rehearsals and the run through take place at Southminster on Mondays, 4:00 – 5:30 p.m. October 8, 15, 22, 29 and November 5, 12, 19. The run through is scheduled for Monday, November 26, 4:00 – 6:00 p.m.
Dress rehearsal is Saturday, December 8, 3:00 – 5:00 p.m. at Harper College, Building J
Performance is Sunday, December 9, 5:30 p.m. at Harper College, Building J
Cost per child is $200.00
We hope you can join us. It's gonna be another great show!
Space is limited, so sign up today!
Moana Medley Performance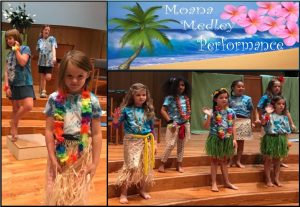 The Moana Medley kids put on a fabulous show for the congregation on Sunday, August 5. After their week-long bootcamp session with Setting the Stage, they were pumped and ready to perform. And their talent, energy, and spirit shone through! Hard work + dedication = success for this great bunch of kids!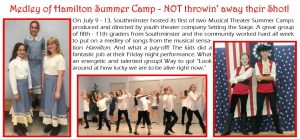 Who is Setting the Stage?
Setting the Stage (STS) is dedicated to providing meaningful, artistic experiences that enrich students' lives and create lifelong memories. Through quality programs and a dedicated staff, STS provides training that strengthens self-confidence and teaches self-worth, teamwork, responsibility, and respect. We strive to show children that when dreams are made, anything is possible. All our classes focus on learning about theater, and the students give a performance at the end of the session.
What does Setting the Stage do?
STS workshops teach the basic skills of musical theater: singing, dancing, and acting. Acting or theater experience is not required, just a willingness to work and learn. Our philosophy is one of inclusion, and we attempt to provide as many opportunities to as many actors as possible. Because our program emphasizes the ensemble, we strive to make all actors aware of their importance to the group. Our classes teach dedication and responsibility while encouraging self-esteem. We teach children how to collaborate and realize how important each of them is to the result.