Environmental Green Team Speaker
sun04jun11:00 amsun12:00 pm11:00 am - 12:00 pm Environmental Green Team SpeakerFaith in Action Speaker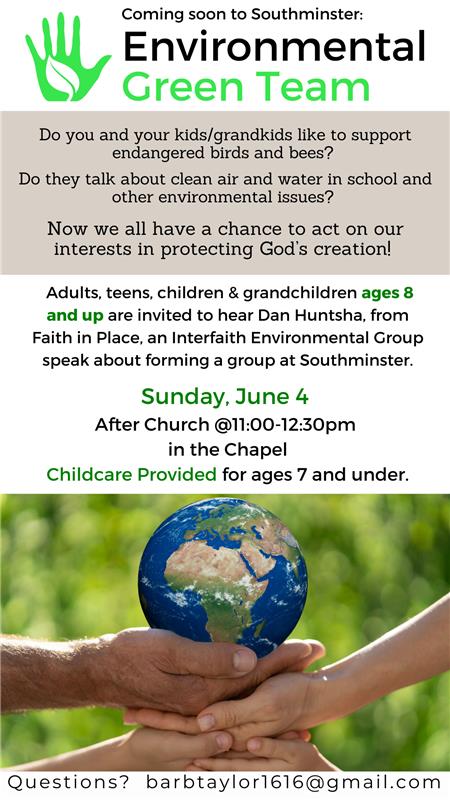 Event Details

Coming soon to Southminster: an Environmental Team!

Do you and your kids/grandkids like to support endangered birds and bees? Do they talk about clean air and water in school and other environmental issues? Now we all have a chance to act on our interests in protecting God's creation! Bring your children/ grandchildren ages 8 and up to hear Dan Huntsha, from Faith in Place, an Interfaith Environmental Group speak about forming a group at Southminster on Sunday, June 4 from 11:00-12:30pm in the Chapel! Listen to Dan as he shares resources about many environmental areas. If you would like to be on the ground floor of this family-friendly environmental group, fill out a paper survey to list your areas of interest. Dan will serve as our group's guide. He will coach us as we form a plan of action. If you would like to be a part of a group that supports protecting and taking care of our Earth, join us!

Added bonus! If you have little ones, childcare will be provided until 12:30 pm.
Time

(Sunday) 11:00 am - 12:00 pm
Organizer
916 East Central Rd. Arlington Heights, IL 60005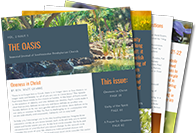 Oasis Journal
Keep up with what's going on in the life of Southminster. Our weekly email includes the upcoming worship info, events, and news.