Scroll to the bottom to view the SPC calendar
CROP Hunger Walk – Sunday, October 21

Sunday, October 21 
Kingswood United Methodist Church
Southminster's efforts to stop hunger continue this October! Hunger is one of the greatest injustices facing our world, but it doesn't have to be this way. Ending hunger is in our lifetime, and you can help make it happen. SPC helps end hunger locally by donating to Wheeling Township Food Pantry and delivering Meals on Wheels in August. The annual CROP Hunger Walk gives us a chance to help end hunger worldwide! So please join us to walk on a beautiful fall day to stomp out hunger worldwide. This year's CROP Hunger Walk is Sunday, October 21, at Kingswood United Methodist Church, 401 W. Dundee Road, Buffalo Grove. Sign up between services on October 7 and 14 to walk with us! Or go online to www.crophungerwalk.org/arlingtonheightsil and click "donate" to help raise funds for our SPC team.
What's the CROP Hunger Walk all about?
CROP Hunger Walks are community-wide events sponsored by Church World Service and organized by local congregations or groups to raise funds to end hunger at home and around the world.
Stand with neighbors in your community who rely on food assistance program
Partner with parents worldwide as they ensure a bright future for their children
Support those struggling with poverty and open up new opportunities for them
If you have questions or need more information, please email Sandy Pifer at lucille111@aol.com. To read more about the CROP Hunger Walk, visit www.crophungerwalk.org.
NEW! – MOPS Group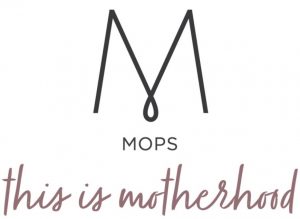 First and third Monday of every month, next meeting November 5
Upstairs at Southminster
RSVP Liz@spcah.org
Are you a mom? Then you know that being a Mom is the hardest job in the world! So come join our NEW MOPS group at Southminster. All moms are welcome! Come share with other moms, make new friends, feel renewed, and learn how to "Find Your Fire." For more information or to RSVP, please email Pastor Liz liz@spcah.org or call her 847.392.1060.
MOPS believes in the simple but revolutionary idea that remarkable things happen when moms come together. That's why we rally women to help them become more brave, kind, and honest.
So whether you are a soon-to-be mom, first time mom, or seventh-time mom, you are welcome here. Whether you are an adoptive mom, young mom, seasoned mom, foster mom, stepmom, or any other type of mom, YOU ARE WELCOME HERE! www.mops.org
Chicago Panamerican Ensemble – Sunday, October 28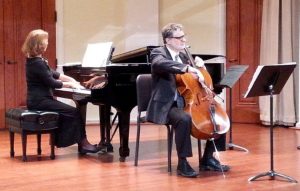 Sunday, October 28
7:00 p.m.
Southminster Sanctuary
We hope you can join us when Andrew Snow and Beatriz Helguera-Snow entertain us with classical pieces from Bach, Beethoven, and Piazzolla from their Tea Time Concert Series. The musicianship of this talented and accomplished couple is both engaging and inspiring. Please join us. A free-will offering will be collected. 
GEM – God Energizing Mission – November 2, 3, and 4 – Register October 21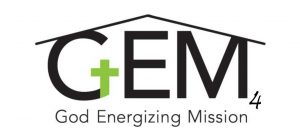 November 2, 3, and 4 2018
Throughout the local community
Registration begins in October on the following dates:
October   7 between services
October 14 between services and after the 11:00 service
October 21 between services
Please register as early as possible.
GEM begins with everyone gathering for dinner on Friday, then enjoying a Saturday morning breakfast at before heading out to help low-income and senior neighbors. Worship on Sunday includes homeowner testimonials and church member experiences.
Southminster members Jean Walker and Sandy Pifer will again be project co-chairs of this wonderful event. Sandy believes,
"We are truly spreading God's l
ove to our community." And Jean says, "The people we help are so appreciative and a real joy to get to know." We hope you'll join this amazing Mission Project weekend. For more information, please email Jean Walker at jw13pr4@aol.com or Sandy Pifer at lucille111@aol.com.
Thanksgiving Baskets for Christopher House
Once again, Southminster's Mission Team is collecting food for Christopher House Thanksgiving Baskets. Please drop off your donations in the Mission boxes located at the front entrance of church by the elevator and outside the church library. Collection runs between between Sunday, November 4, and Sunday, November 18. The Mission Team will be delivering the baskets to Chicago's Belmont-Cragin area the week of Thanksgiving. Below is a list of requested items. We are also collecting paper bags with handles.
For more information or if you have questions, please email Judy Kating jkating@aol.com or call her at 847.397.8214. Thank you for your generosity and for helping those less fortunate.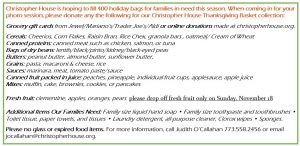 Tuesday Morning Book Club 10:30-11:30 a.m. – Immediately following yoga
Join yoga instructor and reading enthusiast Tricia Wallace for a monthly book discussion immediately following her yoga class. But you don't have to participate in yoga to join the book club. Everyone is welcome! For more information, email Tricia at triciawallaceyoga@gmail.com.
Below is the upcoming reading list and rotating list of hosts:
Tuesday Morning Book Club
Meeting once a month 10:30 – 11:30 a.m.
Southminster's Barnabas Room
November 13: The Alice Network Kate Quinn – Hosted by Laura
December 11: How to Change your Mind: What the New Science of Psychedelics Teaches Us About Consciousness, Dying, Addiction, Depression, and Transcendence Michael Pollan – Hosted by Beth
January 15: The Life We Bury Allen Eskens – Hosted by Laura
February 12: Body Thrive Cate Stillman – Hosted by Molly
Loving Hands Stitchers
Next Meeting: Saturday, December 5
10:00 a.m.
Southminster Library
Loving Hands Stitchers is a group of sewists, knitters, and crocheters who get together to make charitable items for St. Alexius Hospital; families and new parents at Christopher House; the homeless; and cancer patients through Lemons of Love, a cancer resource organization based in Mount Prospect. If you or someone you know would like to join our group, we meet on every first Saturday of the month. For more information visit our web page, Loving Hands Stitchers or call Jan Tossman at 847.259.2679 or email her at silkpalette@gmail.com.
We also accept donations of yarn and children's 100% cotton fabric. We are currently not collecting plastic bags or wedding gowns
Please note: We will not meet Saturday, November 3, due to our church-wide mission event, GEM4 weekend.
Women's and Men's Small Group Bible Studies
Growing in Grace Bible Study
Next meeting, Tuesday, October 30, and every other Tuesday morning
9:15 – 11:30 a.m.
Southminster Chapel
Growing in Grace Bible Study returns from summer break with a new Beth Moore study David: Seeking a Heart Like His. If you've ever experienced doubts, temptations, losses, family problems, or personal inconsistencies, this study is for you. We hope you can join us for coffee, fellowship, DVD, and discussion. No Bible experience needed. Workbooks are $10.00. Childcare is available upon request. If you have questions or need more information, email Kathy Erickson Lievph@aol.com.
Heart of a Woman Bible Study
Meets every Tuesday
1:15 – 3:00 p.m. Southminster
We will continue studying the book of Romans this September. We are only on chapter 2 right now, so don't think it's too late. We'd love for you to join us! We are a group of women who enjoy each other's company and who always welcome new faces. You don't need any experience with the Bible or Scripture. We are very friendly and encouraging and want you to enjoy the experience of being in a relationship with Jesus Christ. At the beginning of each meeting, we visit with one another for about 15 minutes before beginning our study. We hope you will join us and learn how Christ works in your life. 
If you have questions or need more information, please call Jean Ward  at 847.259.6255 or email jeanlward6107@wowway.com.
Wednesday Morning Men's Group
Wednesdays, 7:30 – 8:30 a.m.
Southminster
We are men of all ages with a wide range of both Bible and life experiences. Our goal is to learn more about the Bible and how each of us tries to follow Christ in our daily lives. We are very open about how and when we mess up. We trust that God's love and grace will cover our faults and help us live lives closer to how Jesus wants us to be. If you have questions or need more information, email Keith North.
Bible Boys Bible Study
Thursdays 7:00 – 8:30 p.m.
Southminster
We welcome all men to the Bible Boys, which ranges in age from 30-somethings to 80-somethings; from experienced Bible student to the beginner. We seek to learn how the Bible applies to our everyday lives, and how we can be Christ-followers in today's society. This fall we'll study the "Beatitudes," Matthew 5-7. While studying the Bible each week, we always find time for plenty of laughter and conversation. So give us a shot. You may be surprised what you discover. Email Dennis or call him at 224.520.2831.
Bible Bums Group
Mondays, 6:00 – 7:00 p.m.
Southminster – The "Loft" located downstairs
The Bible Bums resume meeting on Mondays this fall, and all men are welcome to join! We provide nourishment for the mind, body, and the soul in a relaxed, casual atmosphere, discussing Scripture, enjoying fellowship, and sharing stories. We're never sure where some of the discussion may lead, but rest assured it's always interesting. We don't follow a script—just Scripture! We hope you'll join us and bring a friend. For more information, email Ed Gudonis.