MOMS! Register for our July 14 Sunset Yoga on the lawn through our SignUp Genius link

HERE!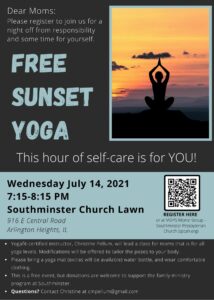 2021-2022 CHILD REGISTRATION – Please click on the image below.

Register for CHILDCARE DURING WORSHIP –

Children's Ministry During Covid
While we aren't holding Children's Chapel in person at the church, Ms. Jill is busy creating fun and meaningful ways you can worship God and stay connected with your Southminster friends and neighbors. 
Want to participate and find out about the latest Children's Ministry activities and information? Here's how…
1. GET ON MS. JILL's WEEKLY EMAIL LIST! 
It's easy, just email Ms. Jill at jill@spcah.org and she will make sure you'll get all the fun information and activities for your families to enjoy. 
2. CHECK THIS PAGE 
We'll post information and ways to connect. 
Remember this prayer… 
God is with us through scary and hard things. We are thankful that God created our bodies to fight infection and be able to heal. We are thankful that God gives us doctors and health care professionals who help sick people become well. We are thankful that God works in our community as we do what we can to keep one another healthy by washing our hands and staying home when we are sick. God is doing good even when things are hard. Thanks be to God. 
(Prayer by Christine V. Hides) 

Our building is currently closed for most indoor children's programs or large group activities. Check this web-page for updates.
Questions? Want to get on our weekly family email list?
Contact Jill Schiltz at
jill@spcah.org
Click on the link to view our safety procedure: Southminster Safe Child Youth Policy