2021-2022 CHILD REGISTRATION – Please click on the image below to register your children. This helps us plan and create fun and meaningful programming throughout the year. Questions email jill@spcah.org.
Join us for Playground Church!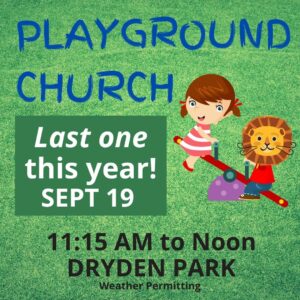 Trunk-or-Treat – REGISTRATION REQUIRED – CLICK HERE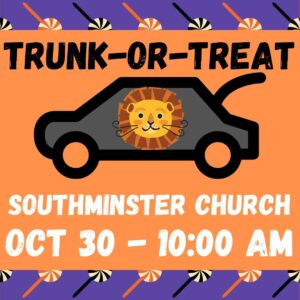 SUNDAY MORNING NURSERY
All children are welcome to remain in our sanctuary with their parents during worship. However, Southminster is pleased to provide childcare for infants and toddlers for registered families.
Pre-register your children for this year by using our 2021-22 Child Registeration Form
RSVP for your desired Sunday HERE before Saturday night, so we can arrange staffing for Sunday morning.
Questions? Contact Jill@spcah.org.
Childcare Helpers Wanted!
If you love children and would like to get on our list of paid childcare helpers for Sunday mornings or for various events throughout the year, we would love to hear from you! Use these online links to apply.
Southminster Childcare Job Application for Teens (jotform.com)
Southminster Childcare Job Application for Adults (jotform.com)
Children's Ministry During Covid
While we aren't holding Children's Chapel in person at the church, Ms. Jill is busy creating fun and meaningful ways you can worship God and stay connected with your Southminster friends and neighbors.
Want to participate and find out about the latest Children's Ministry activities and information? Here's how…
1. GET ON MS. JILL's WEEKLY EMAIL LIST!
It's easy, just email Ms. Jill at jill@spcah.org and she will make sure you'll get all the fun information and activities for your families to enjoy.
2. CHECK THIS PAGE
We'll post information and ways to connect.
Remember this prayer…
God is with us through scary and hard things. We are thankful that God created our bodies to fight infection and be able to heal. We are thankful that God gives us doctors and health care professionals who help sick people become well. We are thankful that God works in our community as we do what we can to keep one another healthy by washing our hands and staying home when we are sick. God is doing good even when things are hard. Thanks be to God.
(Prayer by Christine V. Hides)
Questions? Want to get on our weekly family email list?
Contact Jill Schiltz at
jill@spcah.org
Click on the link to view our safety procedure: Southminster Safe Child Youth Policy