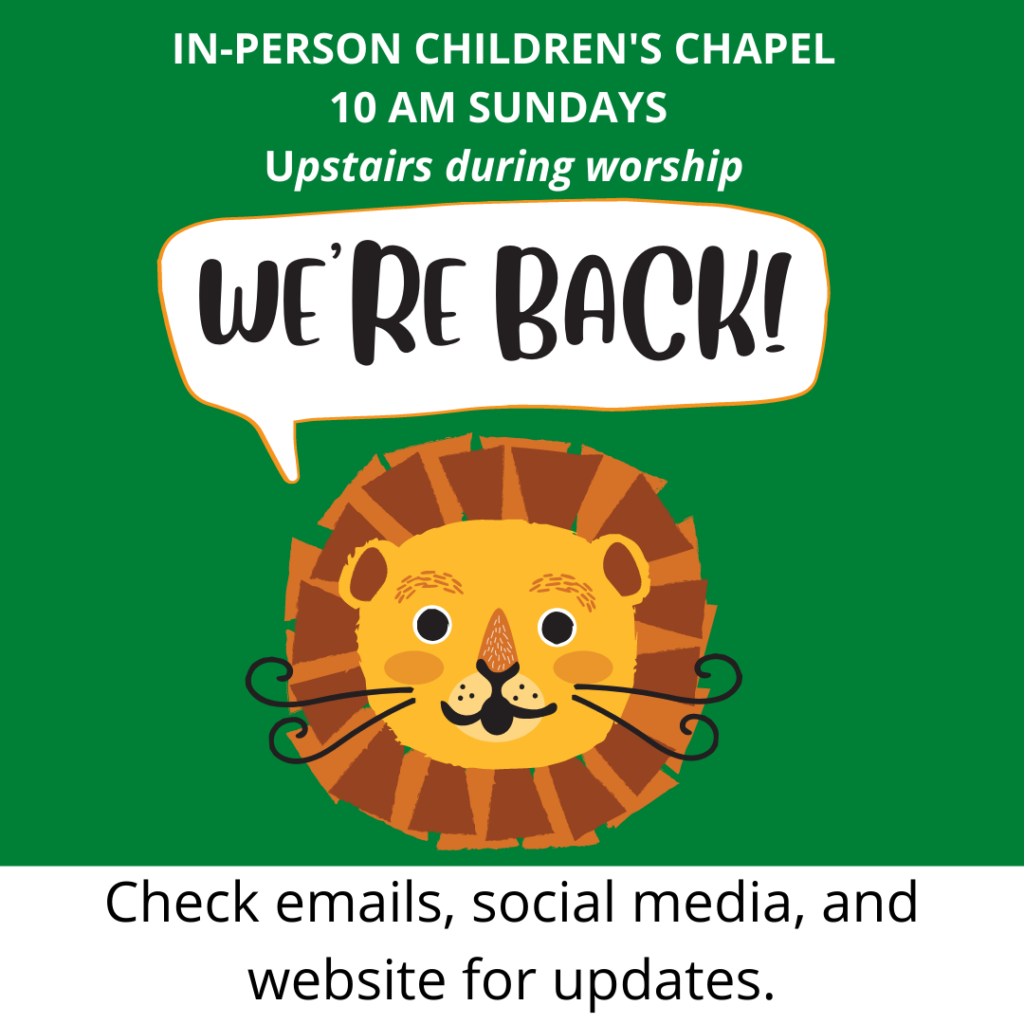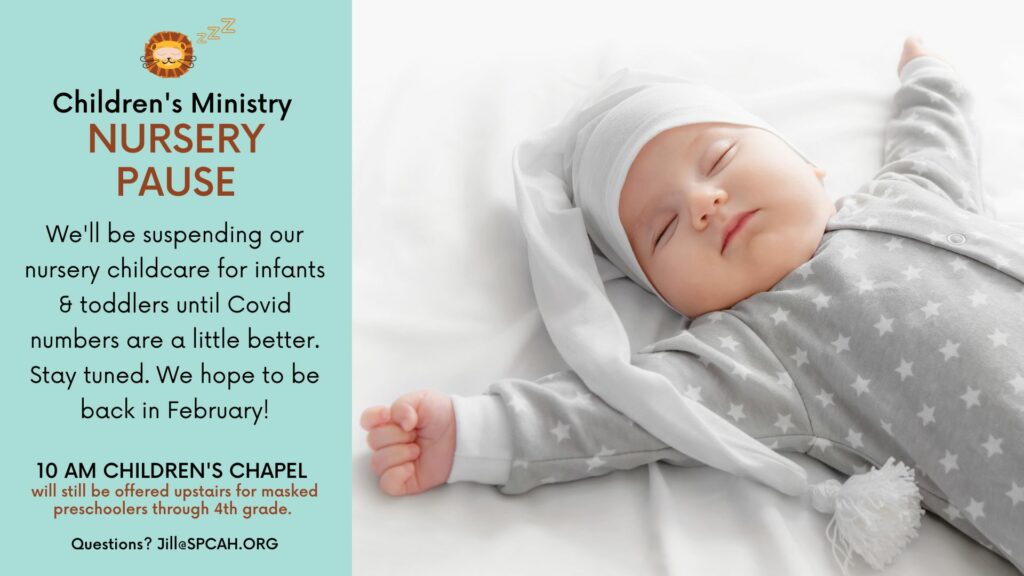 CHILDREN'S CHRISTMAS PAGEANT VIDEO 2021
Thank you to all the Southminster families and friends who helped with our wonderful pageant video this year. Have a blessed new year and enjoy lovely pageant video with your friends and families.
CLICK HERE TO WATCH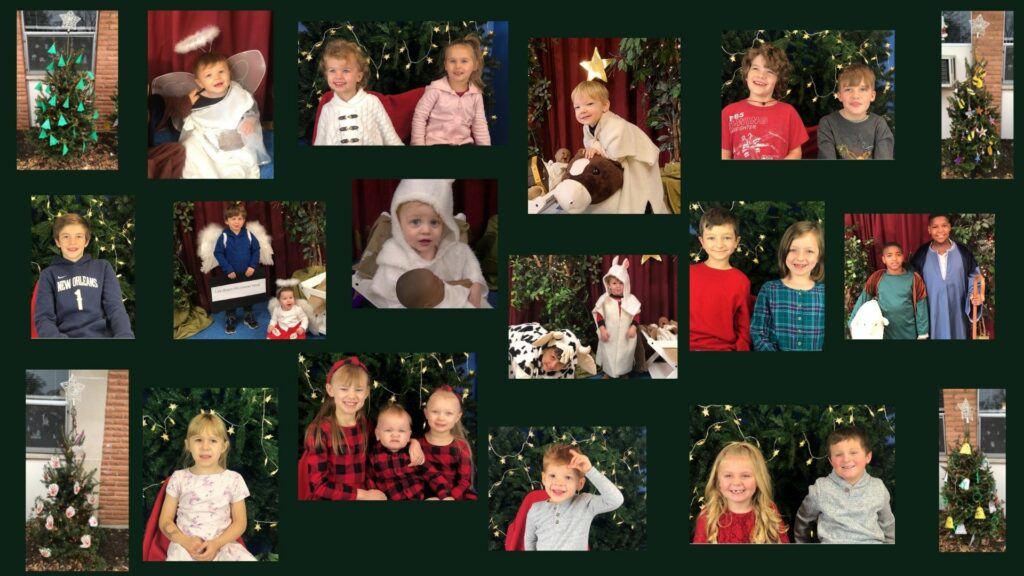 SUNDAY MORNING CHILDREN'S CHAPEL
Children's Chapel (Formerly known as Sunday School) is offered for 3-year-olds thru 4th grade upstairs during our 10 AM Sunday Worship. Drop-off starts at 9:45 and pick-up is after our 10 AM worship service. Children will have fun upstairs in our education wing Kingdom Doors classrooms with Ms. Jill, Children's Ministry Director and Ms. Liz, parent and local elementary school music teacher. We'll do things like play Legos, watch video lessons from our THINK ORANGE curriculum, play games, and enjoy a craft together. No RSVP is required.
SUNDAY MORNING NURSERY
*
All children are welcome to remain in our sanctuary with their parents or sit in our play area behind the glass just outside of our Sanctuary during our 10 AM worship. However, Southminster is pleased to provide childcare for infants and toddlers when we can find helpers.
*As of Jan 11, 2022, we have paused our nursery staffing because of Covid and low infant and toddler attendance. Contact Jill@spcah.org for updates.
If If you or someone you know has childcare experience and loves working with infants and toddlers, let us know. We're always looking for helpers.
Questions? Contact Jill@spcah.org.
SAVE-THE-DATES
Check back for updates and to find out what's going on each season for your family!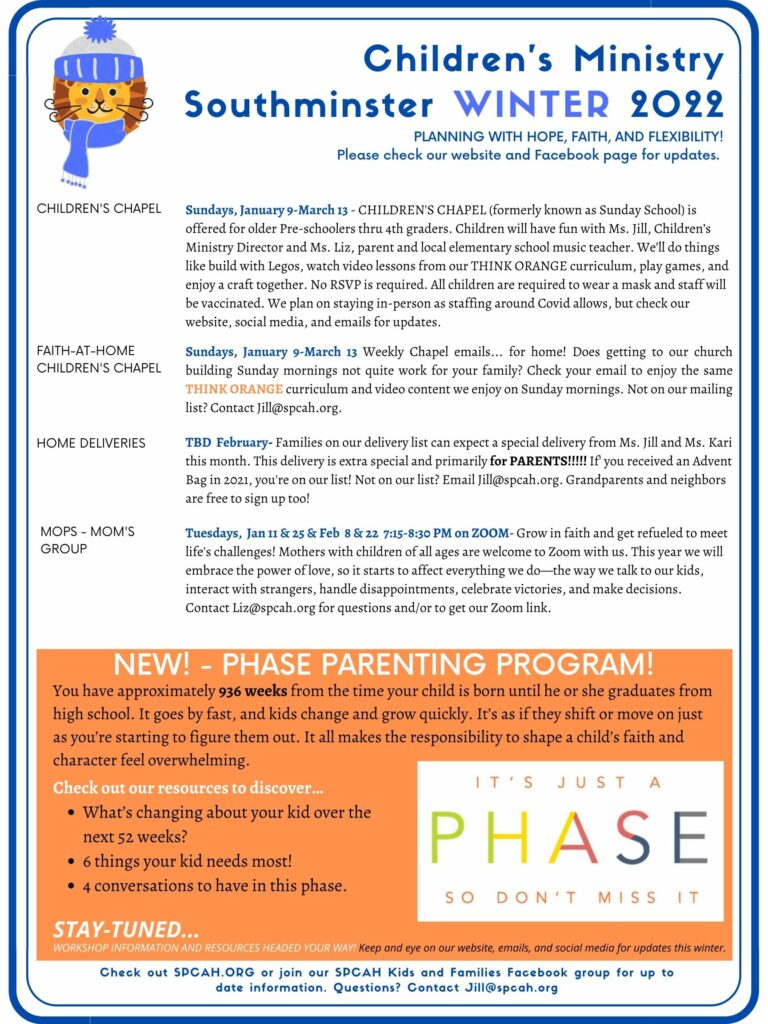 GET CONNECTED
Want to participate and find out about the latest Children's Ministry activities and information? Here's how…
1. GET ON MS. JILL's WEEKLY EMAIL LIST!
It's easy, just email Ms. Jill at jill@spcah.org and she will make sure you'll get all the fun information and activities for your families to enjoy.
2. GET OUR SOUTHMINSTER PARENT CUE APP – Click Here for more info
3. CHECK THIS PAGE
We'll post information and ways to connect.
Remember this prayer…
God is with us through scary and hard things. We are thankful that God created our bodies to fight infection and be able to heal. We are thankful that God gives us doctors and health care professionals who help sick people become well. We are thankful that God works in our community as we do what we can to keep one another healthy by washing our hands and staying home when we are sick. God is doing good even when things are hard. Thanks be to God.
2021-2022 CHILD REGISTRATION
Please click on the image below to register your children and let you see and sign all our saftey measures in one fell swoop! This helps us plan and create fun and meaningful programming throughout the year. Questions email jill@spcah.org.
Click on the link to view our safety procedure: Southminster Safe Child Youth Policy