Children's Christmas Pageant Rehearsals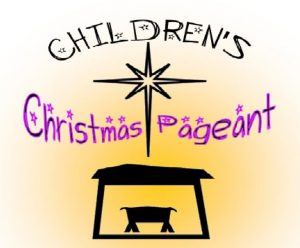 Beginning Sunday, November 18
During Sunday School
All children are invited to be in this year's Children's Christmas Pageant on Sunday, December 16! All rehearsals take place during Sunday school. Don't miss out! It's going to be lots of fun, and there's no memorizing anything!
Here's the rehearsal schedule:
November 18  Sunday school 11:30 – noon
November 25  Sunday school 11:30 – noon
December   2  10:00 a.m. (one service) Sunday school 10:30 – 11:00
December 5  Family Fun Night
(Not a rehearsal, but you should put this free, fun dinner on your calendars!)
December 9 Sunday school 11:30 – noon
(After Worship Rehearsal Cancelled – Go to Joe and Mary instead! Get your tickets and enjoy!)
December 15 10:30 a.m. – noon – Pageant Run-thru MANDATORY!
Call Jill if you have a conflict 773.569.5136.
December 16  9:00 a.m. Pageant Run-thru (PDO Kids come at 9:40)
                      10:00 a.m. Pageant and Family Worship
                      11:00 a.m. Party for Kids at Coffee Hour in Chapel
If you have questions or need more information, please email Jill, SPC's Children's Director, at Jill@spcah.org
Family Fun Nights
Our first family Fun Night was a great success! So many families came to enjoy a catered meal, crafts, games and Disney's Coco. Please join us for our next Family Fun Night on December 5 when we'll celebrate Christmas by having, what else . . . A Christmas Party!
Family Fun Nights are offered on a Wednesday evening once a month throughout the year. This is a night when you don't have to worry about cooking or cleaning up! Our evening begins with a soft start at 5:30 when we'll have a pasta dinner (gluten-free option also available) and then we'll do an activity–sometimes it's a movie; sometimes it's a craft, but it's always something for the whole family to enjoy doing while spending time together. Family Fun Nights are from 5:30 – 8:00 p.m., but you get to decide when your family shows up and how long you'll stay. It's okay if you can just stay for dinner or if you can only come for the activity. This night is about family–your family gets to decide what they want to do! So, come as you are, come for the food, come for the fun, and come enjoy yourselves!
See below for a 2018-2019 calendar listing of activities and events.
Children's Ministry 2018 – 2019 Year-at-a-Glance
Join Southminster throughout the year for fun family activities! Check the schedule below for our Family Fun Nights that begin with a catered pasta dinner (gluten-free options available) followed by a fun activity for the whole family. We hope you'll join us and invite friends to come too. All families are welcome!
And keep checking this page for other fun, upcoming children's events.