We have lots of fun things planned for summer 2019! Scroll down and check out some upcoming opportunities, and watch this page for other upcoming events at Southminster.
Family Fun Night was a Hoot!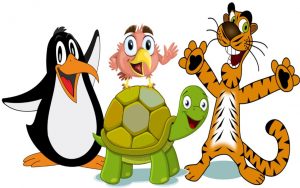 We had a wild time at our last Family Fun Night of the school year. Sue's Party Animals brought hedgehogs, turtles, mice, bunnies, and lots of other furry friends that we could touch and pet. There were also games, toys, crafts, and a yummy pasta dinner. Click here to view our Facebook photo album. See you in the fall!
Children's 2019 Summer Events
Kids Yoga Pajama Party – Parents' Night Out

Thursday, July 25, 5:30 – 7:30 p.m.
Ages 3 – 10 years-old
Southminster
Need a little time out? Parents, enjoy this time to have a date night, meet a friend, or run errands solo. Just feed your child(ren) dinner and drop them off in their pajamas at 5:30 p.m. Kids will enjoy yoga led by instructors Katy DeGeorge & Molly Kranovich, crafts, and games. Each child is $25 and each additional sibling is $5. For more info or to register your child(ren), visit www.mknamaste.com.
Family Camp for Children, their Parents, & Grandparents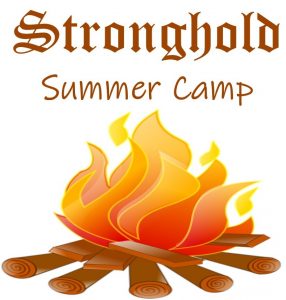 Stronghold Family Camp is where many friendships and memories are born. Camp Stronghold provides a safe, nurturing, Christian experience for youth as a caring community in a natural environment. Stronghold Family Camp offers opportunities to grow in a relationship with God and one another and to increase understanding and appreciation for the nature world.
Stronghold is a ministry of the Presbytery of Blackhawk, Presbyterian Church (USA). But you don't have to be Presbyterian to attend the camp. Families of different faiths or no faith have fun at Camp Stronghold. We hope you'll join us!
Family Camp – July 26 – 28
Thinking about a fun family trip? Join Children's Ministry Director Ms. Jill and her family this summer at Stronghold Family Summer Camp!
$150/$70 each adult
$100/$55 children age 3 and up (ask about toddlers and infants. They can come too!)
$75/$40 each additional child
Click on these links to register for Family Camp:
For more information, email Jill@spcah.org or click on this link for more information about Stronghold and their summer camp programs.
To request a brochure, call Stronghold at 815.732.6111 or visit them at www.strongholdcenter.org.
Family Outdoor Movie Night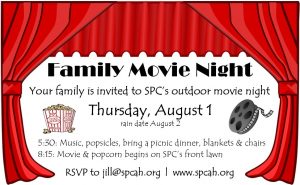 Thursday, August 1 (rain date Friday, August 2) 
5:30 p.m., movie begins at 8:15 p.m.
Southminster's front lawn
Pack a family picnic and bring your lawn chairs and blankets. It's a Family Fun Night outside! Beginning at 5:30 p.m. we'll enjoy music, popsicles, and games on Southminster's front lawn. Movie begins 8:15. FREE POPCORN! Please RSVP—(it really helps us plan). Sign-up on the Education Wing bulletin board or email jill@spcah.org.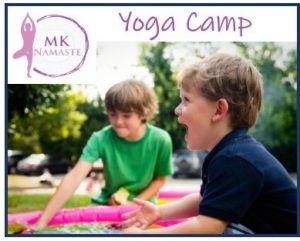 Monday, August 5 – Friday, August 9, 9:00 a.m. noon
Southminster's Desert Room (upstairs)
Campers age 3-10 are welcome (3-year-olds must be potty trained) to join yoga instructor Molly Kranovich for yoga, crafts, walking meditations, and outside play time. Each day campers will have an hour yoga class and make a craft that goes along with the daily theme:
Monday: Peace
Tuesday: Kindness
Wednesday: Gratitude
Thursday: Balance
Friday: Service – Kids learn about Karma Yoga. The last hour of class parents and church members who want to join will be invited to help us make cards for cancer care packages for the local nonprofit, Live Like Roo.
For more information or to register your child for Yoga Camp click here
Questions? Call Molly 847.476.0980 or email mollykranovich@gmail.com