Being a parent is the most important job in the world! We want to help support you to be the best parent you can be, so whether you are a member of Southminster or not, whether you consider yourself religious or not, our staff is here to help!  If you ever need a listening ear, please contact our Associate Pastor, Elizabeth Nickerson, at liz@spcah.org. You are also welcome to scroll down to find websites on parenting tips, scholarships and grants, and substance abuse treatment centers.
Spiritual Exploration
As kids grow they begin to ask tough questions like:
Where did the world come from?
Where do we go when we die?
Is heaven real?
Who or what is God?
If you're not sure how to answer and haven't thought about this for awhile, contact Pastor Liz who can help you explore these questions.
Children's Library
We have a great children's library, with books, audio books, and DVDs to delight and educate your children.
Moms' Groups
Being a mom is exhausting! Make new friends and get renewed each week, by joining a moms groups.
Baptism
Children are a gift from God. During a baptism, the entire community at Southminster pledges to help you raise your child! For more information about having your child baptized, contact one of the pastors.
Parent Cue App
Download our Family Ministry App
Children's Ministry and Youth information customized just for you! It's all at your fingertips with our new Parent Cue App.  Link it to Southminster and you'll have a handy way to keep up with everything Southminster has to offer for you and your children…..no hunting for emails! Click the image below for more information.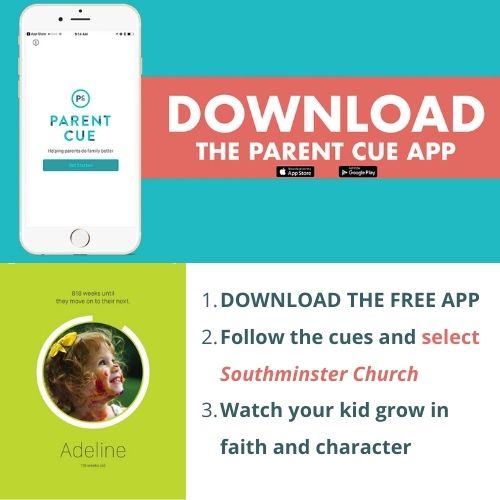 Questions?
EmailJill@spcah.org or Kari@spcah.org for additional information.