Finding Hope
We all need encouragement and hope in uncertain times. What is hope? Hope is a desire for something better, it is finding light in the darkness, it is believing that things will change, and it is something we all need in our lives. Everyone creates and experiences hope in different ways, so on this page we are offering various expressions of hope for those who might need it.
Finding Hope through Scripture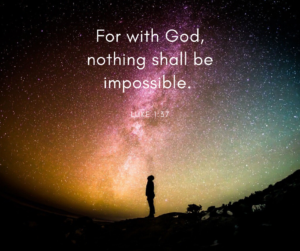 Finding Hope through Nature
Book suggestions from the Nature as Neighbor sermon series by Pastor Matt Gearke.
"Plastic Soup" by Michiel Roscam Abbing 

"The Sound of a Wild Snail Eating" by Elisabeth Tova Bailey 

"The Perfection of the Morning" by Sharon Batula 

"When Helping Hurts" by Steve Corbett and Brian Fikkert 

"Pilgrim at Tinker Creek" by Annie Dillard 

"Super, Natural Christians" by Sallie McFague 

"Blessed are the Consumers" by Sallie McFague 

"A New Climate for Theology: God, the World, and Global Warming" by Sallie McFague 

"God in Creation" by Jurgen Moltmann 

"Lens to the Natural World" by Kenneth H. Olson 

"Walden" by Henry David Thoreau 

Finding Hope through Poetry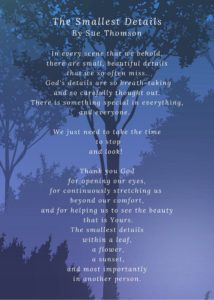 Poetry Suggestions from the Nature as Neighbor sermon series by Pastor Matt Gearke.
"Summer Day" by Mary Oliver

"Consider the Lilies of the Field" by Christina Rossetti 
"Nature" by Henry David Thoreau 

Finding Hope through Music
Music can offer solace, inspiration, excitement, and many other emotional responses. This brief list gives suggestions for listening to music that inspires HOPE and lifts us up. God has given composers and musicians incredible gifts of creativity which exemplify God is doing a good work. Let us live in Hope!
Classical Music
Bach, J.S.  6 Brandenburg Concerti & Goldberg Variations
Durufle  Requiem
Elgar, Edward   Nimrod (from Enigma Variations, #9)
Handel, G.F.  Messiah & Water Music Suite
Hovhaness, A  Mysterious Mountain & Prayer of St. Gregory
Mahler, Gustav  Symphony #2 ("The Resurrection")
The King Of Love My Shepherd Is by Robert Elmore.  Click Here to enjoy this song performed by our organist Sharon R. Peterson
Contemporary Christian Music 
Third Day My Hope is in You
Chris Tomlin I will Rise
Hillsong One Thing Remains
Casting Crowns Who am I?
Hillary Scott Thy Will
Lauren Daigle Trust in You
What Faith Can Do by Kutless. Click Here to enjoy this visual expression of this song with Dan Lisenmann on Piano and Sue Thomson's photography.
Finding Hope through Contemplative Practices
Contemplative practices create space for honest reflection, sharing of beliefs and concerns, and spiritual growth. Hope is important for us all to develop and strengthen because it creates a deeper faith and peace of mind in our lives. Contemplative Prayer, reflective journaling, creating art, music & poetry, and walking the Labyrinth are examples of practices that can be beneficial to developing hope. We are sharing these resources listed below to help you find practices that are meaningful and that cultivate hope in your life.
Contemplative Prayer – click here for a video by Richard Rohr.
Suggested reading – Centering Prayer and Inner Awakening by Cynthia Bourgeault, Everything Belongs – The Gift of Contemplative Prayer by Richard Rohr, and Contemplative Prayer by Thomas Merton.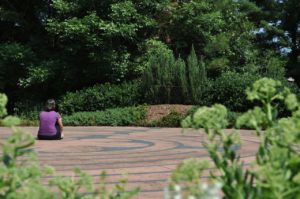 Walking the Labyrinth – Walking a labyrinth is an ancient practice used by many different faiths for spiritual centering, contemplation, and prayer. Labyrinths are made from many different types of materials and are formed into various shapes. As you walk slowly on the path to the center and then return, the practice quiets your mind as you focus on a spiritual question, thought or prayer. Southminster has a 36 foot indoor canvas Labyrinth Crafted by Robert Ferre in 1998 which is the Chartres model and is put up several times a year.
Suggested reading to find out more about labyrinths – Exploring the Labyrinth: A Guide for Healing and Spiritual Growth by Melissa Gayle West
Reflective Journaling  – Journaling the Labyrinth Path by Catherine Anderson
Click Here to find Illinois Public Labyrinths, Click Here to download a traceable finger labyrinth.