What questions do you wrestle with in your faith? How can you deepen your relationship with God? This is a time when adults of all ages gather together to learn, share, and grow in their faith, learning more about the Bible and how to better live their life following Jesus. A variety of different series compose the year. Series are often based on books, but reading the books is optional. For current info about this Sunday's class contact diane@spcah.org.
Adult Education via Zoom
The Journey: Walking the Road to Bethlehem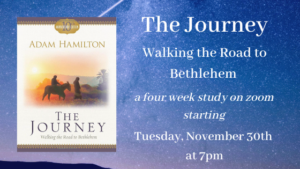 Prepare your heart for the birth of our Savior, Jesus.  Let us travel together with Adam Hamilton, retracing the path of Mary and Joseph on their arduous journey from Nazareth to Bethlehem. Get a new perspective on the Christmas story. The teaching video is filmed on location in the holy land and includes historical information and archaeological findings.
This is a 4 week series meeting on zoom starting on Tuesday, November  30th from 7- 8:15 p.m.   We will enjoy watching a video together, followed by group discussion. Books are optional, but if you would like to purchase a copy, they are available on Amazon.  Hope you will join us.
 November 30  "Mary of Nazareth" & "Joseph of Bethlehem" – Bob Erickson
 Dec 7th             "Mary's Visit to Elizabeth" – Thomas Morrow
 Dec 14              "From Nazareth to Bethlehem" – Bill Bauza
 Dec 21st            "The Manger" – Janine Milner
Meeting ID: 862 0991 8384
Passcode: 942942
One tap mobile 1-312-626-6799
If you have questions or trouble signing in on zoom, call Bob Erickson at
847-297-8360.
SIMON PETER: An Imperfect Disciple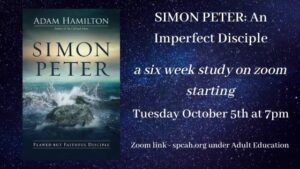 Peter, the disciple, is mentioned more times than all the other disciples combined. He showed inspired moments of leadership and wisdom, while at other times, he showed ignorance and cowardice. Adam Hamilton (pastor and author) will share his insights into Peter from his book, "Simon Peter: Flawed but Faithful Disciple". During this six-week study, we will learn how Jesus saw greatness in this imperfect fisherman and found ways to overcome his shortcomings. We will also learn how Jesus can use our humble abilities, as part of his church, to further his kingdom.
Each week, a 20-minutes video supplements this interesting topic, followed by discussion points. Please join us on Tuesday evenings via Zoom, from 7:00 to 8:15 PM, starting on October 5th.
Chapters: The Call of the Fisherman – Video Recording of Session 1 Part A and Part B
Walking with Jesus in the Storm – Video Recording of Session 2 Part A and Part B
Bedrock or Stumbling Block? – Video Recording of Session 3 Part A and Part B
"I Will Not Deny You" – Video Recording of Session 4 Part A and Part B
Cowardice to Courage – Video Recording of Session 5 Part A and Part B
The Rest of the Story – Video Recording of Session 6 Part A and Part B
Promo trailer: Click Here
Zoom Link: Click Here
Meeting ID : 862 0991 8384 Passcode : 942942
Any questions? Contact Bob Erickson at 847-297-8360 or at lievph@aol.com