What questions do you wrestle with in your faith? How can you deepen your relationship with God? This is a time when adults of all ages gather together to learn, share, and grow in their faith, learning more about the Bible and how to better live their life following Jesus. A variety of different series compose the year. Series are often based on books, but reading the books is optional. For current info about this Sunday's class contact diane@spcah.org.
Adult Education via Zoom
Do Something – A Series on Injustice for Adults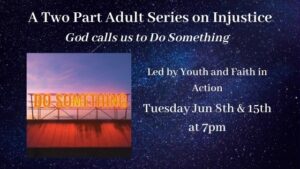 The two part adult series, Do Something Justice Series was a thought provoking series that Kari Sealund and the Faith in Action Team created to complement the Middle School and High School justice series. In the youth series they learned to see injustice, to know they are not alone when working for injustice, that God works with them and He calls us to Do Something about injustice. This has been a wonderful opportunity for us to learn from each other!
During the adult series we shared a video from the CEO of Orange (one of the most respected leaders in Youth Ministry) called "Why We are Talking about This". In this video Reggie Joiner discusses the difficult topic of taking on injustice and defines it as the most important topic the church needs to address if we are to attract the younger generations into our ministry. He also discusses the Biblical basis of the call for justice in the church. The adults listened to video clips on topics like,  Is Racism too political of a topic for the church? Is racism real? When we talk about social justice issues does it distract from the gospel? Does talking about racism and other injustices divide the church? and Why is it important for leaders in the church to talk about racism and other injustices and what are the risks if they don't? These were challenging questions! We ended the short series by listening to Natalie Von Oesen speak about her passion for environmental justice and how she is going to a plant-based meal plan to help the environment. We learned that the youth are passionate about justice issues such as homelessness, racial, educational and environmental injustice. They want to do something! How can we as a congregation support them in realizing some changes in these injustices? In the months ahead our youth will be letting the Faith in Action Team and the congregation know of ways we can work toward some of these injustices! Together we can make a difference and show our children we care about what they see as unjust.
 
Click Here to watch a video recording of the first session on June 8th.
Click Here to watch a video recording of the second session on June 15th.
We are excited to see what the future brings as the Youth lead us in the upcoming year to Do Something about injustice!
A Clash of Kingdoms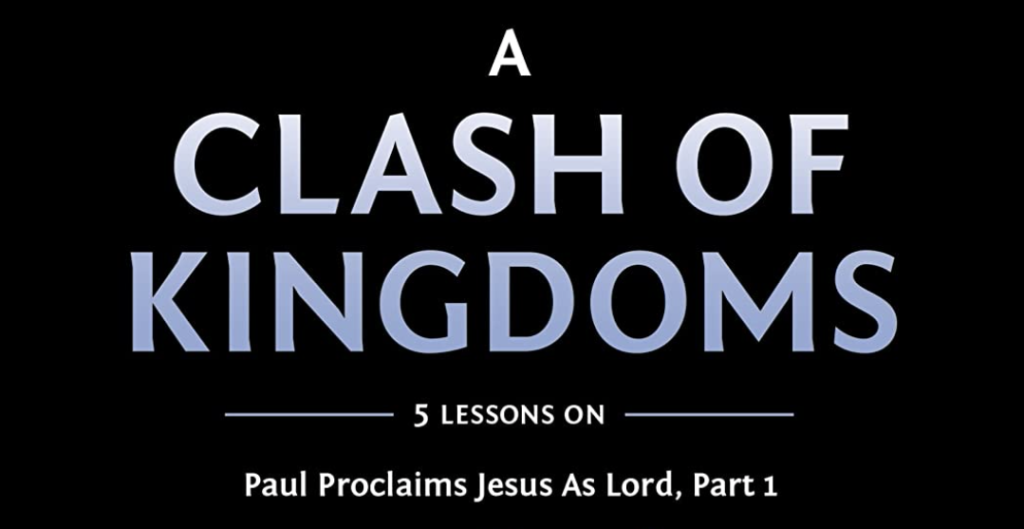 Click Here for Promo Video – A Clash of Kingdoms – A Small Group Bible Study by Ray Vander Laan
Join teacher and historian Ray Vander Laan in his newest video series called "A Clash of Kingdoms – Paul proclaims Jesus as Lord". Filmed in modern day Greece, we will follow the apostle Paul on his second missionary journey. Let us discover together the unlikely people who discovered Jesus. Find out what it means to be a citizen of heaven and see what happens when the kingdom of Caesar and the kingdom of Jesus clash.
Join us on Zoom on Tuesday evenings at 7 PM, beginning April 27th and running through May 25th. Each night will include a video and time for discussion. Recordings of past zoom sessions are available to watch at your convenience.
April 27th – The Gospel of Caesar led by Thomas Morrow – Click Here for Part 1: Video. Click Here for Part 2: Discussion
May 4th – The Believers led by Mary Kay Walsh – Mary Kay Walsh is suggesting you will find it helpful to click here and read "A Summary of Paul's Life by Daniel Pentimone and also read Acts 16, the whole chapter, but especially click here for the story of Lydia Acts 16:14-15. Click Here for Part 1: Video. Click Here for Part 2: Discussion.
May 11th – The Powers of Darkness led by Bob Erickson Click Here for Part 1a: Video, Click Here for Part 1b: Video, Click Here for Part 2: Discussion
Mary 18th – The Philippian Jailer led by Dennis Rich Click Here for Questions to Ponder Click Here for Part 1a: Video, Click Here for Part 1b: Video, Click Here for Part 2: Discussion
May 25 – Confronting the Empire led by Bill Bauza Click Here for Part 1a: Video, Click Here for Part 1b: Video, Click Here for Part 2a: Discussion, Click Here for Part 2b: Discussion