We participate in a variety of mission, entertainment, and social opportunities through the year, from the annual all church picnic, to Christopher House Family-to-Family Christmas, book club, Bible groups, golf outings, and more! Below are some of our upcoming events. You can also check out the calendar to see other opportunities happening at Southminster.
Kids Yoga Pajama Party – Parents' Night Out

Thursday, July 25, 5:30 – 7:30 p.m.
Ages 3 – 10 years-old
Southminster
Need a little time out? Parents enjoy this time to have a date night, meet a friend, or run errands solo. Just feed your child(ren) dinner and drop them off in their pajamas at 5:30 p.m. Kids will enjoy yoga led by instructors Katy DeGeorge & Molly Kranovich, crafts, and games. Each child is $25 and each additional sibling is $5. For more info or to register your child(ren), visit www.mknamaste.com.
Adult Education Summer Series – July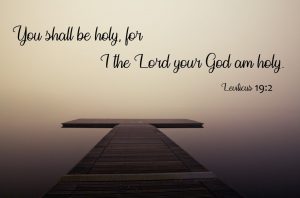 Sundays in July at 11:10 a.m.
Southminster's Chapel
The Book of Leviticus talks about ritual, legal, and moral practices, and may seem like an odd choice for our Adult Education Summer Series. But Kjirsten Almos, former Southminster Children's Ministry Director, is facilitating this series and excited for the chance to engage us in a deep study of Leviticus. During her own study, she was amazed to discover how this book reveals God's love for the people of Israel and how it can affirm our faith. Please join us this July to gain an understanding of Leviticus and how this book resonates with our faith journeys today.
Volunteers Needed for Spring of Life Habitat Partnership Work Days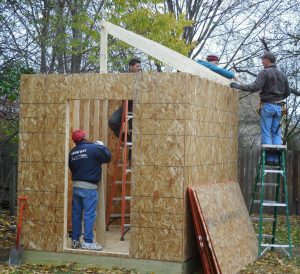 Habitat for Humanity's Spring of Life Partnership is beginning work on their 17th house! Eight area churches along with Southminster are members of this partnership and are assigned workdays. Southminster's workdays are Saturdays, July 6 and 20, August 3 and 17. Volunteers are needed of all skill levels, and no experience is required. We begin about 8:00 a.m. and work until mid-afternoon. Lunch is provided. The house is at 559 S. Edison Street in Elgin. If you are interested in volunteering or would like more information, please email Tom Snyder at thomaspsnyder@hotmail.com.
Family Outdoor Movie Night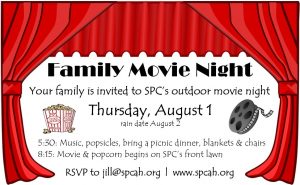 Thursday, August 1 (rain date Friday, August 2) 
5:30 p.m., movie begins at 8:15 p.m.
Southminster's front lawn
Pack a family picnic and bring your lawn chairs and blankets. It's a Family Fun Night outside! Beginning at 5:30 p.m. we'll enjoy music, popsicles, and games on Southminster's front lawn. Movie begins 8:15. FREE POPCORN! Please RSVP—(it really helps us plan). Sign-up on the Education Wing bulletin board or email jill@spcah.org.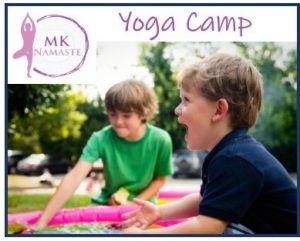 Monday, August 5 – Friday, August 9, 9:00 a.m. noon
Southminster's Desert Room (upstairs)
Campers age 3-10 are welcome (3-year-olds must be potty trained) to join yoga instructor Molly Kranovich for yoga, crafts, walking meditations, and outside play time. Each day campers will have an hour yoga class and make a craft that goes along with the daily theme:
Monday: Peace
Tuesday: Kindness
Wednesday: Gratitude
Thursday: Balance
Friday: Service – Kids learn about Karma Yoga. The last hour of class parents and church members who want to join will be invited to help us make cards for cancer care packages for the local nonprofit, Live Like Roo.
For more information or to register your child for Yoga Camp click here
Questions? Call Molly 847.476.0980 or email mollykranovich@gmail.com
Southminster's Night at the Boomers Game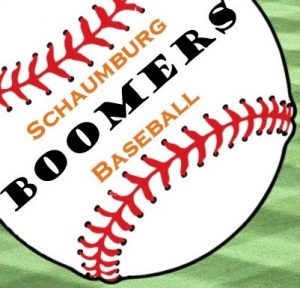 Friday, August 16, beginning at 6:30 p.m.
Boomers Stadium
Join us for a beautiful night at the ballpark, so close to home–Boomers Stadium at 1999 Springinsguth Road in Schaumburg! Tickets are $9 and you can purchase an optional food voucher for $5 that includes a hot dog, chips, and a soda. There's a fireworks show after the game, and parking is free. For more information or to order tickets, call Garland at 847.226.6539 or email him at gbr1020@aol.com.
Moms' Mops Group

First and third Monday of every month – currently on summer break, returning Fall 2019 
10:00 – 11:15 a.m. Southminster's Oasis Room (upstairs)
RSVP Liz@spcah.org
Are you a mom? Then you know that being a Mom is the hardest job in the world! So come join our MOPS group at Southminster. All moms are welcome! Come share with other moms, make new friends, feel renewed. For more information about Fall 2019 registration, please email Pastor Liz liz@spcah.org or call her 847.392.1060.
MOPS believes in the simple but revolutionary idea that remarkable things happen when moms come together. That's why we rally women to help them become more brave, kind, and honest.
So whether you are a soon-to-be mom, first time mom, or seventh-time mom, you are welcome here. Whether you are an adoptive mom, young mom, seasoned mom, foster mom, stepmom, or any other type of mom, YOU ARE WELCOME HERE! www.mops.org.
Women's and Men's Small Group Bible Studies
Wisdom for Living Women's Bible Study
Meeting every other Tuesday, beginning September 24
9:25 – 11:30 a.m. 
Southminster Chapel
Wisdom for Living Women's Bible Study invites all women to this Fall 2019 Bible study on Proverbs, beginning Tuesday, September 24, and continuing every other Tuesday. Learn practical ways to solve your problems and steady your life's course. We hope you can join us for coffee, fellowship, and discussion. No Bible experience needed. Childcare is available upon request. If you have questions or need more information, email Kathy Erickson Lievph@aol.com.
The Fall study will run as scheduled:
September 24
October 8
October 22
November 5
November 19
December 3
Heart of a Woman Bible Study
Meets every Tuesday
1:15 – 3:00 p.m. Southminster
We are currently studying the book of Romans, and we'd love for you to join the group! We are women who enjoy each other's company and who always welcome new faces. You don't need any experience with the Bible or Scripture. We are very friendly and encouraging and want you to enjoy the experience of being in a relationship with Jesus Christ. At the beginning of each meeting, we visit with one another for about 15 minutes before beginning our study. We hope you will join us and learn how Christ works in your life. If you have questions or need more information, please call Jean Ward  at 847.259.6255 or email jeanlward6107@wowway.com.
Wednesday Morning Men's Group
Wednesdays, 7:30 – 8:30 a.m.
The Barnabas Room at Southminster
We are men of all ages with a wide range of both Bible and life experiences. Our goal is to learn more about the Bible and how each of us tries to follow Christ in our daily lives. We are very open about how and when we mess up. We trust that God's love and grace will cover our faults and help us live lives closer to how Jesus wants us to be. If you have questions or need more information, email Keith North at kanorth12@gmail.com.
Bible Boys Bible Study
Thursdays, 7:00 – 8:30 p.m. On summer break. Returning Fall 2019
Southminster
We will begin studying Old Testament prophets, beginning with Zechariah and welcome all men to join us. We're a group of men whose ages range from 30-somethings to 80-somethings, and go from experienced Bible student to the beginner. We seek to learn how the Bible applies to our everyday lives, and how we can be Christ-followers in today's society. For more information, email Dennis or call him at 224.520.2831.
Bible Bums Group
Mondays, 6:00 – 7:00 p.m. Currently on summer break. Meetings will resume after Labor Day. 
Southminster – The "Loft" located downstairs
The Bible Bums resume meeting on Mondays this fall, and all men are welcome to join! We provide nourishment for the mind, body, and the soul in a relaxed, casual atmosphere, discussing Scripture, enjoying fellowship, and sharing stories. We're never sure where some of the discussion may lead, but rest assured it's always interesting. We don't follow a script—just Scripture! We hope you'll join us and bring a friend. For more information, email Ed Gudonis at egud1@aol.com.