Parenting Teens with Love & Logic

SPC offered this highly acclaimed Parenting series Sunday afternoons on in January and February.
Our Love & Logic Series is being followed up by a Love & Logic Parenting Group that will meet once a month on Sunday afternoons, and will be led by Shelia Hynes.  
The group will meet to further discussions from the workshop and focus on one subject each session. This will include time for parents to share specific challenges they are having with their teens. Optional exercises and homework will be given each week so parents can practice the skills that they are learning.
The Parenting Group will meet from 3pm to 5pm these Sundays:
March 8th– "How to teach your teen to have empathy for others"
April 19th– "How to set boundaries with Screen time"
May 17th– "Being a Parent Coach and teaching your teen to be resilient"
The cost will be $30 per person or $50 per couple for all three sessions.
To Register for the Parenting Group: Click Here
Sheila Hynes, a Marriage and Family Therapist, will lead us in Parenting Teens with Love & Logic. She is a certified instructor in Love & Logic that will be presenting a three session series to our families and the surrounding community. In today's world, teenagers face a huge number of choices and opportunities. Love & Logic techniques help you tackle tough subjects and teach responsible decision making. This is essential in helping our teens grown into successful and healthy young adults. Love and Logic will help parents get out of the power struggle mode, and into the consultant seat as teens figure out how to make good choices. This program could help grandparents and parents with children who are preteens too!
Please watch a segment that was just released on Different Drummers about our workshop that gives a nice preview of Love and Logic parenting! Here is a link on YouTube:  Different Drummers Program
Also here is a link from an article in the Daily Herald about our program: Daily Herald
Upcoming Concerts:
Volunteers Needed for Spring of Life Habitat Partnership Work Days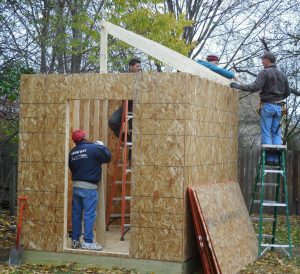 Our current house is now under roof!  It is a new build at 1015 Schuler Street, Elgin.  Our work days are February 8 and 22, March 7 and 21, April 4 and 18, May 2, 16 and 30 and June 20.  Volunteers are needed at all skill levels. Work days are from 8:00 am to mid-afternoon and lunch is provided. If interested contact Tom Snyder at thomaspsnyder@hotmail.com
Moms' Mops Group

First and third Monday of every month 
10:00 – 11:15 a.m. Southminster's Oasis Room (upstairs)
RSVP liz@spcah.org
2019-2020 Meeting Dates:
Information Meeting September 9th at 10 am – come check out the group!
September 23rd, October 7th & 21st, November 4th & 18th, December 2nd & 16th, January 6th & 20th, February 3rd & 17th, March 2nd & 16th, April 6th & 20th, May 4th & 18th, June 1st & 15th.
Are you a mom? Then you know that being a Mom is the hardest job in the world! So come join our MOPS group at Southminster. All moms are welcome! Come share with other moms, make new friends, feel renewed. For more information about Fall 2019 registration, please email Pastor Liz liz@spcah.org or call her 847.392.1060.
MOPS believes in the simple but revolutionary idea that remarkable things happen when moms come together. That's why we rally women to help them become more brave, kind, and honest.
So whether you are a soon-to-be mom, first time mom, or seventh-time mom, you are welcome here. Whether you are an adoptive mom, young mom, seasoned mom, foster mom, stepmom, or any other type of mom, YOU ARE WELCOME HERE! www.mops.org.
Women's and Men's Small Group Bible Studies
Wisdom for Living Women's Bible Study
Meeting every other Tuesday, beginning January 14th
9:25 – 11:30 a.m. 
Southminster Chapel
Wisdom for Living Women's Bible Study invites all women to this Winter 2020 Bible study called They Met Jesus: Life Changing Encounters by Marilyn Kunz & Catherine Schell. This study invites you to learn about fifteen people from different backgrounds, experiences and beliefs who met Jesus. You will see how Jesus interacted with each of them and how their lives were impacted. You will also learn about the relevance of Jesus in your life today. We hope you can join us for coffee, fellowship, and discussion. No Bible experience needed. Childcare is available upon request. If you have questions or need more information, email Kathy Erickson Lievph@aol.com.
The Winter study will run for 8 weeks.
Heart of a Woman Bible Study
Meets every Tuesday
1:15 – 3:00 p.m. Southminster
We are currently studying the book of Romans, and we'd love for you to join the group! We are women who enjoy each other's company and who always welcome new faces. You don't need any experience with the Bible or Scripture. We are very friendly and encouraging and want you to enjoy the experience of being in a relationship with Jesus Christ. At the beginning of each meeting, we visit with one another for about 15 minutes before beginning our study. We hope you will join us and learn how Christ works in your life. If you have questions or need more information, please call Jean Ward  at 847.259.6255 or email jeanlward6107@wowway.com.
Wednesday Morning Men's Group
Wednesdays, 7:30 – 8:30 a.m.
The Barnabas Room at Southminster
We are men of all ages with a wide range of both Bible and life experiences. Our goal is to learn more about the Bible and how each of us tries to follow Christ in our daily lives. We are very open about how and when we mess up. We trust that God's love and grace will cover our faults and help us live lives closer to how Jesus wants us to be. If you have questions or need more information, email Keith North at kanorth12@gmail.com.
Bible Boys Bible Study
Thursdays, 7:00 – 8:30 p.m. 
Southminster
 We're a group of men whose ages range from 30-somethings to 80-somethings, and go from experienced Bible student to the beginner. We seek to learn how the Bible applies to our everyday lives, and how we can be Christ-followers in today's society. For more information, email Dennis or call him at 224.520.2831.
Bible Bums Group
Mondays, 6:00 – 7:00 p.m. Currently on summer break. 
Southminster – The "Loft" located downstairs
The Bible Bums resume meeting on Mondays this fall, and all men are welcome to join! We provide nourishment for the mind, body, and the soul in a relaxed, casual atmosphere, discussing Scripture, enjoying fellowship, and sharing stories. We're never sure where some of the discussion may lead, but rest assured it's always interesting. We don't follow a script—just Scripture! We hope you'll join us and bring a friend. For more information, email Ed Gudonis at egud1@aol.com.