May Preaching Series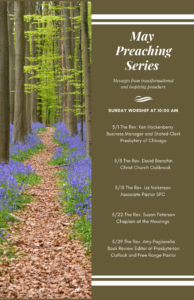 Stephen Ministry Speaker Series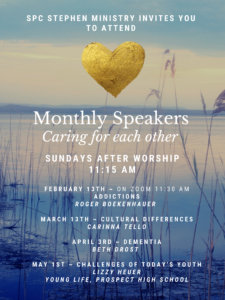 Women's Retreat – Saturday, May 7th 9am to 1pm
After a long season of hibernation and isolation, it's time to shed some layers, break free and embrace the hope of spring. Come join us for a morning of transformation as we explore spiritual practices to help refresh our spirit and grow wings of a new and abiding faith! Creative activities, moving meditation, labyrinth prayer walk and box lunch from Jelly Cafe included. 
Date: Saturday, May 7th, 9 am to 1 pm at Southminster 
Cost: $15
Facilitators: Kari Sealund and Kathy Gudonis 
There is No Planet B Recorded on Zoom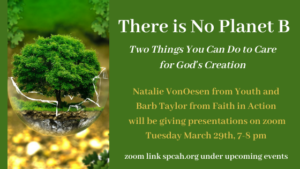 SPC Youth and Faith in Action have teamed up to offer our congregation a Zoom class to offer us two things we can do to care for God's Creation. We hope you will join us to learn about how to reduce PFAS in your home and animal products in your diet. Both have a direct impact on our health and the environment and should be reduced in our homes and lives as we are called to care for God's creation.
In the very beginning of time, God created all that is, and proclaimed it good (Genesis 1:1–31). He instructs us to "cultivate and care" for creation (Genesis 2:15). God also tells Moses to make sure the Israelites let their land lie fallow every 6 years, giving the land itself a Sabbath, or time to rest (Leviticus 25:4–5). The Scriptures brim with reminders that creation belongs to God and reveals his goodness (Romans 1:19–20, 1 Corinthians 10:26), which invites us to respect our Creator by caring for nature.
Please click here for the video recording of our program!
GAB Group ~ Grandchildren are a Blessing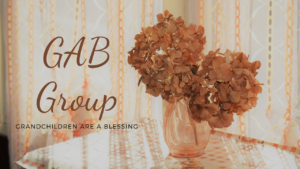 Our Grandmothers small group has an official name, GAB ~ Grandchildren are a blessing! We would love for you to join us, we meet the last Sunday of each month.
Isn't it a joy being a grandmother?  It's also so nice to have other grandmothers to share our questions and challenges with, especially about how to pass on our faith.
If you would like to join us or have any questions, contact Kathy Gudonis at